As the area's one-stop-shop for hardware and tools, Surplus Center Inc. maintains a huge inventory of products. Regardless of what kind of work you're doing or what the nature of your project is, count on us to supply you with everything you need. Our typical inventory consists of welding supplies, upholstery supplies, trailer hitches, and much more!
Trailer Hitches
From wrenches and screwdrivers to saws and specialty tools, we've got everything necessary to fill your toolbox. Our mission is to be your destination for any and all hand tools you may need. Plus, we stock proven name brands, including
Teckton Tools
Grip Tools
Acme Trailer
Alongside our tools, we also keep a huge inventory of general hardware, welding supply, and trailer hitches in Grand Forks, ND. We purchase all hardware and supplies in bulk to maintain low prices and we pass these savings along to our customers in the form of low price-per-pound sales. You won't find better prices anywhere else!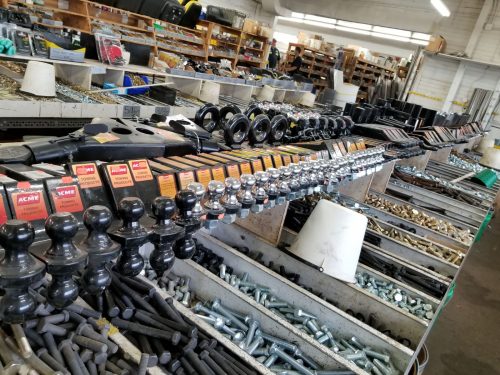 Upholstery Supplies
If you're in the market for upholstery supplies in Grand Forks, ND, we're your destination. Come to us for fasteners, foam rubber products and a wide variety of additional upholstery supplies. Our selection is plentiful and our prices are unbeatable, allowing our customers to get exactly what they need without searching high and low or spending an arm and a leg.